Copper Water Bottles: Nourishing Body and Soul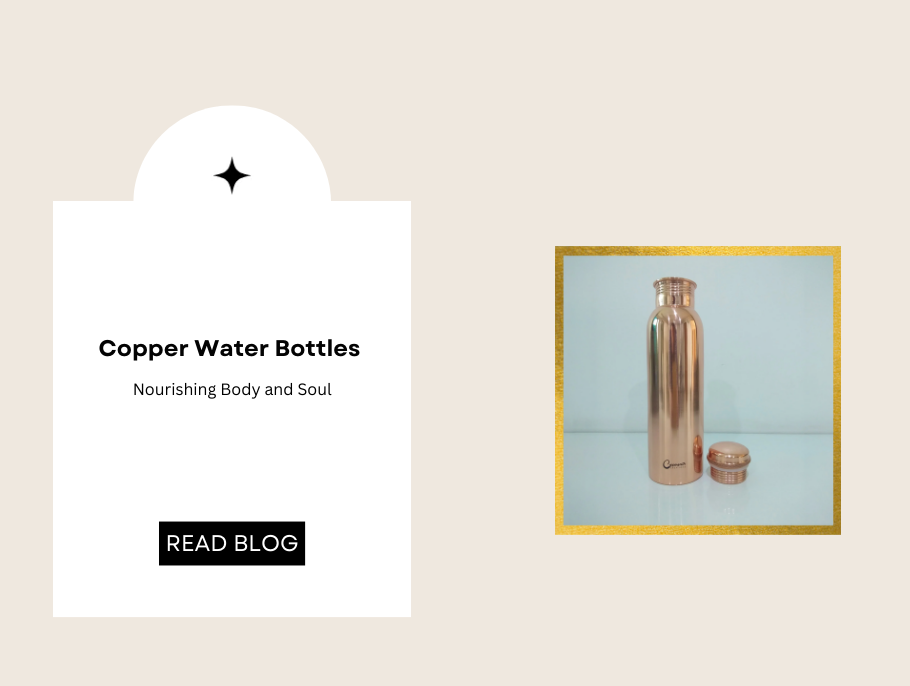 Introduction:
In the midst of our fast-paced lives and the constant quest for wellness, a timeless tradition emerges as a beacon of hope—drinking from copper water bottles. In this article, we delve into the fascinating world of copper hydration, unveiling its profound impact on both physical and spiritual well-being.
The Allure of Copper:
Copper, with its resplendent gleam, is not just a metal; it's a source of enchantment. A copper water bottle is a work of art that elevates a simple act of hydration to a sacred ritual. The craftsmanship and elegance inherent in these bottles make them more than mere containers; they are objects of desire.
Purity in Every Sip:
Copper's innate antimicrobial properties bestow it with the power to purify water. Each sip from a copper vessel offers not just refreshment but also purity. It's a testament to the ancient belief that the water we consume should be as pure as our intentions.
Sipping Elegance:
Drinking from a copper water bottle is more than a routine; it's an experience in elegance. It transforms the mundane into the magnificent. Each sip is a reminder that life, even in its simplest form, can be an expression of grace.
Wellness: Body and Soul:
Copper, beyond its aesthetics, bestows a gift to the body. It stimulates digestion, enhances gut health, and promotes overall wellness. This tradition, rooted in ancient wisdom, is a bridge between the past and the present.
Sustainability and Conscious Choices:
As the world awakens to the imperative of sustainability, copper water bottles shine as a beacon of eco-consciousness. They are reusable, reducing the environmental burden of single-use plastic bottles. Choosing copper is an affirmation of our responsibility to the planet.
Bridging Time and Tradition:
Copper water bottles are not a mere trend; they are timeless vessels of tradition. Across cultures and millennia, these containers have ensured the purity of hydration. Today, they harmoniously blend the ancient with the modern.
Conclusion:
Copper water bottles transcend mere utility; they are vessels of tradition, elegance, and wellness. Incorporating these exquisite creations into your daily life is not just a practice; it's an affirmation of the enduring wisdom that unites the past and the present.