Crafting Your Ideal Bathroom: Creative Copper Bathtub Design Ideas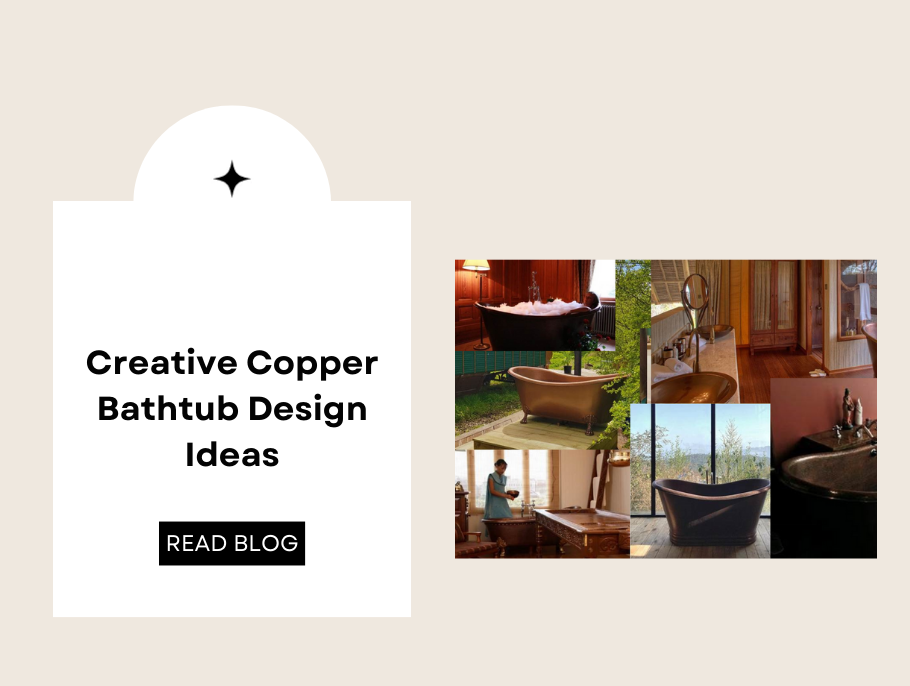 Bathrooms are no longer just utilitarian spaces; they have evolved into personal sanctuaries for relaxation and rejuvenation. At the heart of this transformation stands the copper bathtub, symbolizing luxury and timeless beauty. Whether you're a proud owner or contemplating the addition of a copper bathtub, you might be wondering how to create a bathroom that harmonizes with this exquisite centerpiece. In this article, we'll explore an array of inspirational ideas for designing your dream bathroom around a copper bathtub.
Timeless Elegance:
Elevate your bathroom's appeal with classic, timeless design elements. Consider marble or granite countertops, vintage fixtures, and a soft, neutral color palette. Add sophisticated features like clawfoot tub fillers or wall-mounted faucets to infuse an air of opulence.
Bohemian Retreat:
Embrace a bohemian-inspired atmosphere with a blend of eclectic tiles, vibrant textiles, and a profusion of greenery. Earthy tones and intricate patterns beautifully complement the warm hues of copper. Open shelving for storage offers the perfect opportunity to display an array of decorative items.
Industrial Chic:
For a contemporary and industrial look, uncover raw materials like exposed brick walls and concrete floors, creating a captivating contrast with the copper's warmth. Minimalist, open vanities and stainless steel fixtures can further intensify the industrial ambiance.
Coastal Oasis:
Craft a serene coastal atmosphere with a light color palette, beach-inspired accessories, and an abundance of natural light. Infuse the coastal spirit with driftwood accents, seashell decorations, and ocean-inspired artwork.
Zen Serenity:
Design a Zen-inspired bathroom where the copper bathtub takes center stage for relaxation. Minimalistic design with clean lines and a soothing neutral color palette creates a tranquil environment. Consider bamboo flooring, a stone vessel sink, and calming, minimalist décor to enhance the Zen ambiance.
Rustic Charm:
Embrace the rustic aesthetic by incorporating reclaimed wood accents, stone walls, and vintage lighting, evoking a sense of nostalgia. Add antique mirrors and farmhouse-style vanities to complete the rustic charm.
Modern Luxury:
Achieve a sleek and modern look with a monochromatic palette, contrasting textures, and minimalist fixtures. Conceal clutter with hidden storage solutions and introduce a touch of opulence with a statement chandelier or modern pendant lights.
Artistic Expression:
Turn your bathroom into an artistic canvas for self-expression. Incorporate mosaic tiles, hand-painted murals, and unique wall art to showcase your creativity. Let your copper bathtub become the centerpiece of this vibrant setting.
Conclusion:
Designing your bathroom around a copper bathtub is a captivating endeavor that allows you to express your unique style and preferences. Whether your preference leans towards classic elegance, coastal charm, or industrial chic, the ultimate goal is to create a space that not only complements the copper's beauty but also offers a serene environment for your daily bathing rituals. With these inspirational ideas, you're well on your way to crafting the bathroom of your dreams.