Your Comprehensive Guide to Choosing the Perfect Bathtub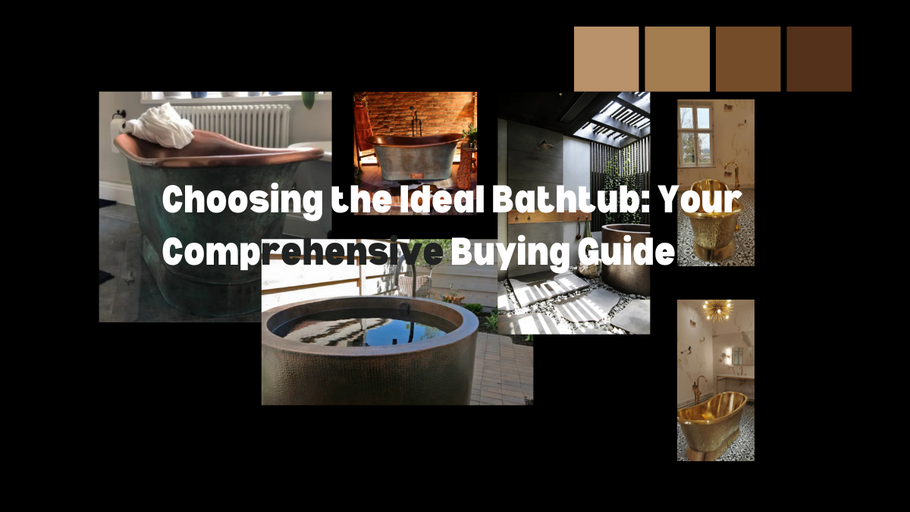 Selecting the right bathtub can elevate your bathroom into a haven of relaxation and style. This comprehensive guide simplifies the process of finding the ideal tub to match your unique preferences, budget, and available space.
Exploring Bathtub Materials:
The first step in choosing your bathtub is deciding on the material. You have several options:
Acrylic: Known for being lightweight, affordable, and easy to clean.
Cast Iron: A durable choice that retains heat exceptionally well, though it tends to be heavier and more expensive.
Fiberglass: Offers affordability but may not be as long-lasting as other materials.
Stone or Concrete: Luxurious and durable, but often comes with a higher price tag.
Copper Bathtubs: A Touch of Timeless Elegance: 
If you're in search of a distinctive and timeless bathroom fixture, consider copper bathtubs.
These unique tubs not only serve as functional bathing spaces but also double as works of art, adding elegance and timeless beauty to any bathroom.
As they age, copper bathtubs develop a unique patina, ensuring your tub becomes an integral part of your home's history.
With proper maintenance, a copper bathtub can last for generations, offering enduring beauty and functionality. Moreover, copper is a highly sustainable material, as it can be recycled without losing any of its quality or beauty.
Keep in mind that copper bathtubs often represent an investment, with prices varying based on size and design.
Brass Bathtubs: The Epitome of Opulence:
Brass bathtubs exude a luxurious and timeless aesthetic. Their warm, golden tones bring an air of opulence to any bathroom.
These bathtubs are crafted from durable and robust materials, making them resistant to corrosion and damage, ensuring they last for generations.
Brass bathtubs also excel in heat retention, keeping your bathwater warm for an extended period and delivering a cozy and relaxing bathing experience. Over time, these tubs develop a unique patina that enhances their character, adding to their charm.
You'll find brass bathtubs in various styles, from classic clawfoot designs to modern freestanding options. However, it's important to note that brass bathtubs require regular cleaning to maintain their shine, typically achieved with a mixture of vinegar and water or a commercial brass cleaner.
Due to their weight, it's essential to ensure that your bathroom floor can support the load. Just like copper, brass bathtubs are often considered an investment, with prices varying based on factors like size, style, and brand.
Freestanding vs. Built-In Tubs:
The choice between freestanding and built-in bathtubs plays a significant role in your bathroom's overall style and layout. Freestanding tubs are celebrated for their stylish and versatile nature, allowing them to be placed virtually anywhere in your bathroom, adding an elegant touch to your space.
On the other hand, built-in tubs are designed to save space and can be seamlessly integrated into your bathroom's overall design. Your decision should be based on your available space and your aesthetic preferences.
Tub Size and Shape: Ensuring that your bathtub fits comfortably in your bathroom is crucial for a relaxing bathing experience.
This involves measuring the available space and taking into account the tub's length and width to ensure it accommodates your height and comfort. Additionally, consider the shape of the tub.
Common shapes include oval, rectangular, and corner tubs. It's vital to select a shape that complements your bathroom's design and layout.
Bathtub Style and Aesthetics: Your choice of bathtub style should harmonize with your bathroom's overall aesthetic.
Consider different styles such as modern, which features sleek and minimalist designs, or traditional, which includes classic clawfoot tubs and other vintage styles.
You can also opt for a contemporary style, which blends elements of both modern and traditional designs. The style you choose should align with your personal preferences and complement your existing decor.
Bathtub Features for Added Luxury:
Elevate your bathing experience by incorporating additional features into your bathtub. Consider options like water jets for a spa-like experience and enhanced relaxation, built-in faucets that not only streamline the tub's appearance but also offer added convenience, and storage shelves for practical organization of your bath essentials.
Installation: DIY or Professional?:
Before you embark on the installation process, decide whether you'll undertake it yourself or hire a professional. A DIY installation can be a cost-effective option, but it requires a certain level of skill.
On the other hand, professional installation ensures a seamless fit and proper plumbing, particularly for more complex installations.
Set a Bathtub Budget:
Establishing a budget for your bathtub project is essential. Quality tubs come at a range of price points, so it's crucial to define your budget and seek out options that offer the best value for your investment.
Eco-Friendly Options: For those with environmental concerns, there are eco-friendly bathtub options available. These tubs are crafted from sustainable materials and feature water-saving technologies.
Choosing an eco-friendly option not only contributes to a greener planet but can also help reduce your water consumption.
Safety and Accessibility:
If you or your family members have mobility issues or if you're seeking to enhance bathroom safety, consider bathtubs with accessibility features. These may include grab bars and non-slip surfaces to ensure a safer and more comfortable bathing experience.
Vintage and Antique Tubs: Timeless Charm:
If you have an affinity for vintage aesthetics, explore the timeless charm of clawfoot tubs and other antique options.
Discover how to seamlessly incorporate these classic pieces into a modern bathroom design for a unique and eclectic look.
Conclusion: Your Perfect Sanctuary Awaits:
In summary, selecting the right bathtub is a journey that involves thoughtful consideration of materials, style, size, features, and budget.
This guide empowers you to make an informed choice, resulting in a personal sanctuary that promotes relaxation and rejuvenation.