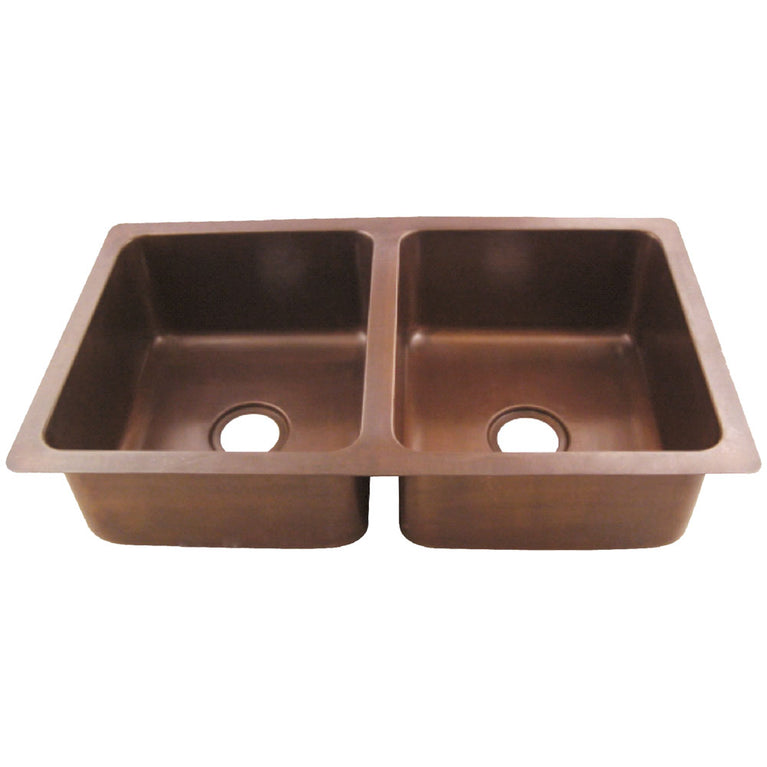 Available in both hammered / plain surface
Metal thickness : 16 gauge
Hand waxed for easy maintenance
Finish will patina with time and normal use
Available in light, medium or dark antique finish
Dimension 36" x 21" x 10"
--
Copper Double Bowl Kitchen Sink
This copper kitchen sink is an exquisite utility product which every modern kitchen should have. It features two rectangular dual basins which has smoothly rounded inside corners with wide sink hole at the center of each bowl.
Following are some of the highlights of the product:

Available in both hammered / plain surface
Metal thickness : 16 gauge
Hand waxed for easy maintenance
Finish will patina with time and normal use
Available in light, medium or dark antique finish
Dimension 36" x 21" x 10"
Advantages of having Copper Double Bowl Kitchen Sink
If you love the look of a warm, natural, golden brown patina, you'll be delighted to know that pure copper kitchen sinks don't require any maintenance!
Mother Nature has given copper a seemingly magical quality known as a 'living finish'.  This very unique characteristic sets copper apart from most other metals and is the primary reason why a pure copper sink or bath tub becomes more beautiful with age!
Copper sinks 'heal themselves'. Should you happen to scratch the surface and end up with a bright, shiny, streak somewhere on your sink or tub, you won't need to take any steps to 'fix' it, because of copper's 'living finish' properties, your copper kitchen sink, bathroom sink or bathtub will quite literally 'heal' itself!
Copper is naturally antibacterial!  Recent studies have shown that bacteria only lives for hours on copper, as compared to living for days on stainless steel and longer still on all other types of kitchen and bath surfaces! You can toss out all those disinfectants and antibacterial products you've got stashed under your kitchen sink!  Bacteria will simply not live on copper
Care & Maintenance
Naturally, copper metal is corrosion resistant hence copper sinks never rust. Use a mild detergent or mild soap and a soft microfiber cloth only for the cleaning of your sink. 
For a more thorough cleaning, clean the sink occasionally with gentle or mild dish soap, warm water and a soft and clean cloth or sponge. wipe the inner and outer surfaces of your copper sink with the piece of cloth or sponge to keep it away from water residues held in the texture.

Other Variations of Copper Kitchen Sink without front apron:
Copper Kitchen Sink Single Wall Design