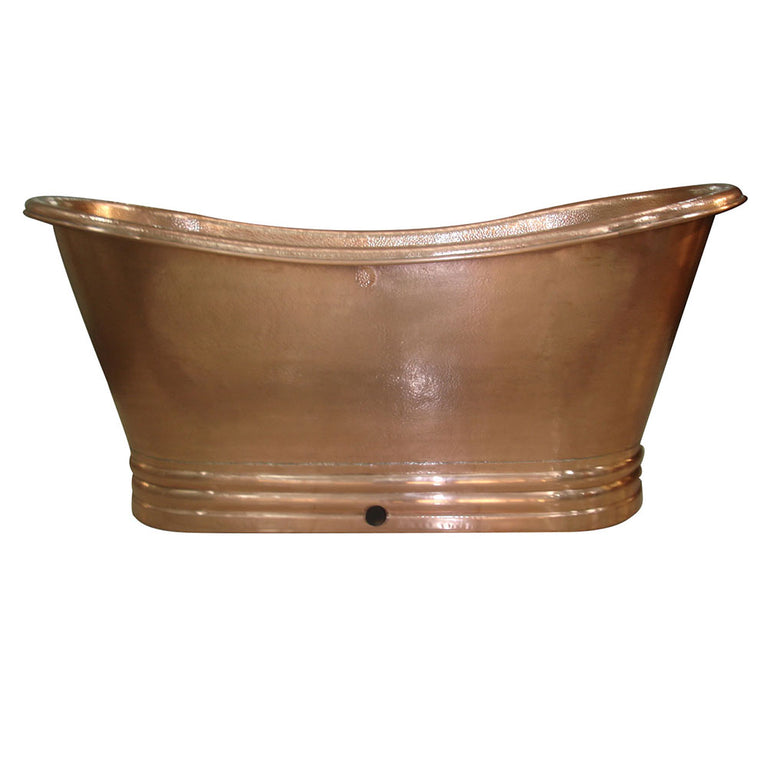 Copper Bathtub, Shiny Copper


Cascading Base


Shiny Copper Hand Tinned


Popular Design & Finish.


Made of 16 gauge copper


Each tub is crafted by hand. No two tubs are alike.


Tub filler must be floor


--


Shiny Copper Bathtub by Coppersmith Creations. Lacquered or Hand waxed finish for easy maintenance




Shiny Copper Bathtub


Cascading Base


Shiny Copper


Popular Design & Finish.


Made of 16 gauge copper


Lacquered or Hand waxed finish for easy maintenance.


Each tub is crafted by hand. No two tubs are alike.


Tub filler must be floor






Copper Bathtub Properties:


Mother Nature has given copper a seemingly magical quality known as a 'living finish'.  This very unique characteristic sets copper apart from most other metals and is the primary reason why a pure Copper Bathtub Shiny Copper becomes more beautiful with age!

When left untreated, copper interacts with its environment and naturally deepens in color and tone over time.  It begins its journey with a pinkish, salmon-like hue and very gradually darkens in color as it passes through a progression of russet browns until it finally stabilizes to a deep, rich tone.

The speed at which it changes color and the final depth of tone for each copper bathtub will differ and is greatly influenced by the amount and type of use it receives and by the prevailing weather patterns in your particular geographical location.

The truth is... pure Copper Bathtub Shiny Copper age gracefully and become even more beautiful with every passing day!


Maintenance:


Because of copper's natural composition, cleaning is easy. Simply rinse after each use to rid the surface of any soap or dirt. For a more thorough cleaning, wash occasionally with dish soap and a sponge.

Copper Bathtub Shiny Copper will patina with time and normal use, creating a much sought-after living finish. If you wish to keep your copper fixture in its original condition and prevent the natural aging process, wipe it dry after each use. Apply normal wax at least once every 15-20 days. Our copper sinks and tubs are warranted against manufacturer's defects for a period of five years. The finishes available are considered living finishes and are not covered under warranty.